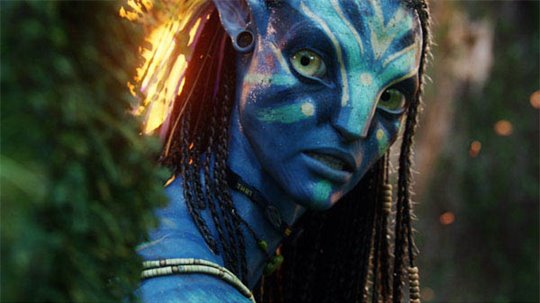 With the sequel to Avatar starting production this week, Deadline reports that the combined budget for all four sequels in the series is an estimated $1 billion.
If you split that amount between each of the four sequels evenly, each installment gets a hefty $250 million budget, and you can probably guess where most of that money is going to go.
There's no question that the revolutionary visuals that made the first film so ground-breaking will be continued to be improved upon by director James Cameron in the sequels, and most likely, that will cost major dollars, especially if James makes good on his vision to make Avatar 2 the first 3D film that won't require the use of 3D glasses.
While $1 billion overall is a lot of coin, it's not as unbelievable as you might think. According to Variety, the first Avatar cost at least $237 million. Sure, that's quite a bit, but the film recouped that cost and then some, grossing a whopping $2.8 billion worldwide.
Also, many big releases get the big budget to match -- films such as Star Wars: The Force Awakens, Batman v Superman: Dawn of Justice and The Hobbit trilogy each received similar amounts. James Cameron is a recognized heavy-hitter in the filmmaking biz, so the studio no doubt has faith that the acclaimed director will hit it big once again with Avatar 2, 3, 4 and 5.
Are you wondering when you'll be able to catch a glimpse of where all that movie money went? Take a look at the release schedule for the Avatar sequels below! ~Alexa Caruso



* Avatar 2 release date: December 18, 2020


* Avatar 3 release date: December 17, 2021


* Avatar 4 release date: December 20, 2024


* Avatar 5 release date: December 19, 2025