This year has been filled with highlights, but also scandals, and unfortunately, as always, we lost a number of beloved celebrities. We take a look back at the performers we lost in 2017.
January/February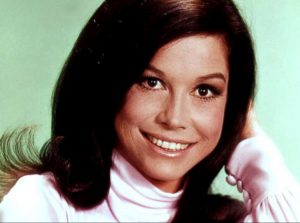 Miguel Ferrer, best known for his roles on the long-running series Crossing Jordan and NCIS: Los Angeles, died Jan. 19, 2017 of throat cancer at the age of 61. Beloved TV actress Mary Tyler Moore (pictured at right), fondly remembered for her work on The Dick Van Dyke Show and The Mary Tyler Moore Show died from cardiopulmonary arrest due to pneumonia at the age of 80 on Jan. 25.
Respected British actor John Hurt, who received Academy Award nominations for the 1978 feature film Midnight Express and the 1980 movie The Elephant Man, died of cancer on Jan. 25 at the age of 77. Mike Connors won a Golden Globe for his starring role on the long-running TV series Mannix. He died at 91 on Jan. 26, a week after being diagnosed with leukemia.
Barbara Hale, who played Della Street on the hit series Perry Mason, died on Jan. 26, at the age of 94 from complications due to COPD. Battlestar Galactica star Richard Hatch died at 71 on Feb. 7 of pancreatic cancer.
April/May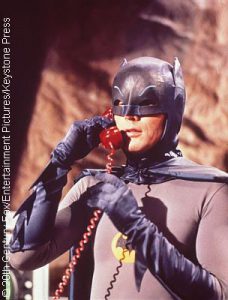 Best known for his starring role as the crime-fighting superhero Batman on the popular 1960s TV series, Adam West (pictured at left) died at 88 on June 9 following a brief battle with leukemia. Beloved comedian Don Rickles, known as "Mr. Warmth" for his brand of insult comedy, died of kidney failure at age 90 on April 6. Former child star Erin Moran (Happy Days, Joanie Loves Chachi)  died of squamous cell carcinoma of the throat on April 22 at the age of 56. James Bond star Sir Roger Moore died at his home in Switzerland at the age of 89 on May 23 after a brief battle with liver and lung cancer.
July to September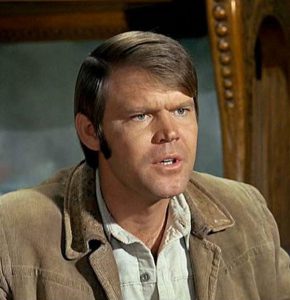 Martin Landau, who rose to fame on the long-running television series Mission: Impossible, was 89 when he passed away on July 15 in Los Angeles. John Heard, who played the dad in the first two Home Alone films, died at the age of 71 on July 21 of a heart attack while recovering from back surgery.
Respected playwright and actor Sam Shepard died of complications from ALS, also known as Lou Gehrig's disease, at age 73 on July 27. Country singer Glen Campbell (pictured at right) made the shift into movie stardom with a lead role in the 1969 Oscar-winning film True Grit opposite John Wayne. He was diagnosed with the degenerative brain disease Alzheimer's disease in 2011 and died Aug. 8, at age 81 in Nashville.
Comedian Jerry Lewis, known for his films with straight man Dean Martin and his annual Labor Day weekend telethon, died at age 91 of cardiovascular disease on Aug. 20, 2017. Character actor Harry Dean Stanton died at 91 in Cedars-Sinai Medical Center in Los Angeles on Sept. 15.
October to December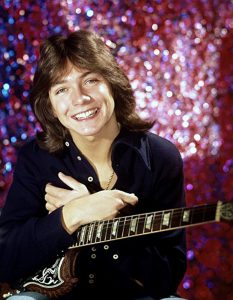 Tom Petty, the lead singer of Tom Petty and the Heartbreakers, passed away at 66 following a heart attack on Oct. 2. Gord Downie, lead singer and songwriter for the Canadian rock band The Tragically Hip, died Oct. 17  at the age of 53 of brain cancer.
Robert Guillaume, who won an Outstanding Lead Actor Emmy for his long-running sitcom Benson, died Oct. 24 of prostate cancer at the age of 89. John Hillerman, who won a Golden Globe and an Emmy for his role as Jonathan Higgins on the 1980s series Magnum, P.I., died Nov. 9 at the age of 84 of natural causes.
Touched by an Angel actress Della Reese passed away at the age of 86 on Nov. 19, 2017. David Cassidy (pictured at left), famous for the hit series The Partridge Family and for achieving international superstardom as a pop/rock star, died of organ failure at 67 on Nov. 21.
Jim Nabors, known as Gomer Pyle on The Andy Griffith Show and on his own spinoff, Gomer Pyle, U.S.M.C., passed away at 87 on Nov. 30. Heather Menzies-Urich, who played Louisa Von Trapp in the beloved movie classic, The Sound of Music, died Dec. 24 at the age of 68 in Frankford, Ontario just four weeks after being diagnosed with brain cancer.
And finally, Rose Marie, who began her career as a child singer in the 1920s but is best known for her role as Sally on the 1960s sitcom The Dick Van Dyke Show, passed away Dec. 28 at the age of 94.
For more details and photos, click here to view our photo gallery honoring these stars. ~Alexandra Heilbron