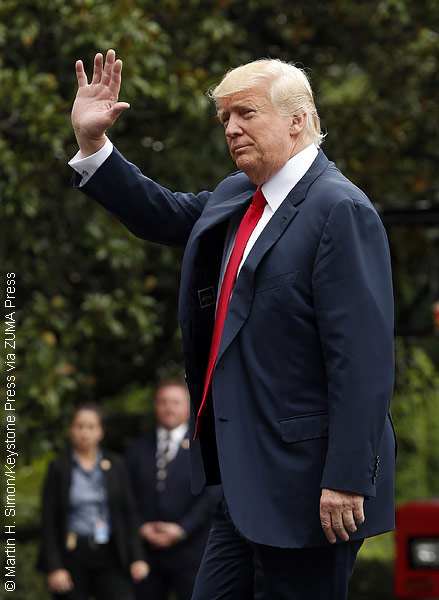 U.S. President Donald Trump has put his foot, or his phone, rather, in his mouth yet again after tweeting about how the frigid East Coast could use some Global Warming to heat things up.
He tweeted: "In the East, it could be the COLDEST New Year's Eve on record. Perhaps we could use a little bit of that good old Global Warming that our Country, but not other countries, was going to pay TRILLIONS OF DOLLARS to protect against. Bundle up!"
Indeed, parts of the U.S. and most of Canada (yesterday, Ottawa was named the coldest capital on Earth!) are experiencing a serious cold snap this winter.
But some scientifically-informed celebs aren't laughing at Trump's dig at the validity of climate change, citing that climate change means extreme weather, which includes swings in both directions of the thermometer.
Many took to their own Twitter accounts to call out Trump for what they think is his obvious ignorance regarding the issue (note: Trump pulled the U.S. out of the Paris Climate Agreement, making the country the only one not signed up with fighting the changing climate and the impact it's having on our environment).
In addition to the usual name-calling, some celebrities also point to articles written by scientific authorities on climate change.
Check out some of their tweets below! ~Alexa Caruso




Hey dumbass, global warming doesn't only mean extreme heat; it means extreme weather. Hot and cold. Maybe buy a thermometer and shove it up your ass. https://t.co/wdO0t0nPiY


— Chelsea Handler (@chelseahandler) December 29, 2017



We have a President who categorically doesn't believe in Science. America is entering into a new Dark Age, because it's cold in Chicago this week.


— Josh Gad (@joshgad) December 29, 2017



For the idiots..."Why Global Warming Can Mean Harsher Winter Weather https://t.co/bieOczipqE" https://t.co/cJ3TYhDleX


— Jeffrey Wright (@jfreewright) December 29, 2017



Could this guy be anymore of an idiot? https://t.co/DgyYpByG80


— Cara Santana (@CaraASantana) December 29, 2017


— Don Cheadle (@DonCheadle) December 29, 2017



a good resource for your annoyingly uninformed aunt, that one "well, actually" guy from high school you're still friends with on Facebook, and... well, this president: https://t.co/v7BvyUZYBK


— Tyler Oakley (@tyleroakley) December 29, 2017