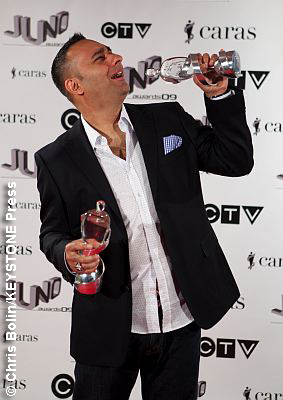 Organizers for the JUNO Awards ceremony, which aired this past Sunday (April 3), are apologizing for offensive comments made by host Russell Peters during the live broadcast.
Allan Reid, president of the JUNOS, addressed Russell's jokes in a statement after viewers and attendees of the show called out the comedian's remarks as sexist.
"I want to address the comments made by Russell Peters on our broadcast on Sunday, April 2. We do not, in any way support, nor did we sanction, the off-script remarks Mr. Peters made in regards to the girls and women in attendance at the Awards, along with his inappropriate reference to the Honourable Minister Mélanie Joly," he said.
The comedian opened the show with a monologue, in which he called young female audience members "felonies waiting to happen."
Russell then made another quip, jokingly asking why Heritage Minister Mélanie Joly was an award presenter, adding that it didn't matter because "she's hot, so who cares?"
Reid's statement continued to say that Russell's remarks do not reflect the views of The JUNOS or The Canadian Academy of Recording Arts and Sciences (of which Reid is the CEO).
"CARAS and our charitable arm MusiCounts, conduct significant efforts to engage and support women, particularly funding initiatives for girls in school and community music programs. While we understand that there is still a lot of work to be done in these areas, we firmly believe the first step is empowering females....This incident is not reflective of any views held in our organization."
Viewers and some Canadian music artists quickly took to Twitter and other social media to blast Russell's comments.
Musician Sarah Harner tweeted directly to Reid, calling for an official apology.




Congrats @allan_reid & @TheJunoAwards but Russell Peters's 'joke' abt young women had no place at the Junos https://t.co/poAIs74pok Comment?


— Sarah Harmer (@sarah_harmer) April 3, 2017

Ian Campeau, founding member of the Native musical group A Tribe Called Red, slammed Russell on Facebook, calling him a "dirtbag." His daughters heard the insensitive jokes right after watching their father and his band open the show with a performance honoring missing and murdered indigenous women.

Russell has not yet made any comment regarding the backlash, however, his Twitter account has been "liking" tweets that show support for him. ~Ashleen Grange