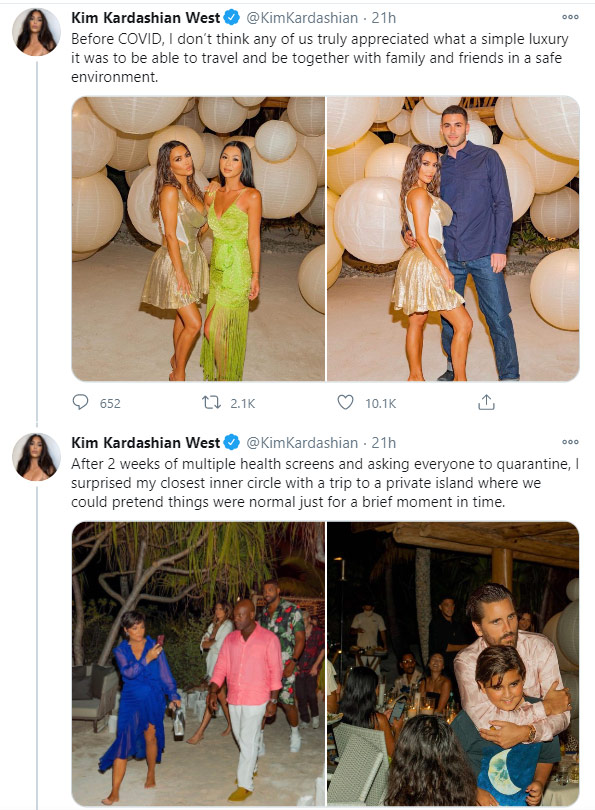 After posting about taking her "inner circle" to a "private island" by private jet, Kim Kardashian has sparked outrage on Twitter for her insensitivity in flaunting her luxurious birthday party while so many are suffering around the world.
She wrote: "After 2 weeks of multiple health screens and asking everyone to quarantine, I surprised my closest inner circle with a trip to a private island where we could pretend things were normal just for a brief moment in time."
Her post was criticized by an angry reader who pointed out: "Wait, who's normal is this? You rented out a COVID-free island during a pandemic. Super normal."
Her comments and photos of her "inner circle" partying were met with more rage from people saying Kardashian has no regard for the current medical crisis and the financial devastation that has hit many during the pandemic.
One person wrote: "Very selfish when people are dying and loosing [sic] their jobs. Also doubt it very much that all 20+ people that attended isolated prior."
A frustrated follower responded with: "This is insanely selfish and you are completely out of touch. You could've waited, but you didn't. You could've done it quietly, but you didn't. Flaunting the excess of privilege and wealth at this time is not cool, not right."
However, Kardashian continued to post about how fabulous her life is, apparently tone deaf to her followers, writing, "We danced, rode bikes, swam near whales, kayaked, watched a movie on the beach and so much more. I realize that for most people, this is something that is so far out of reach right now, so in moments like these, I am humbly reminded of how privileged my life is. #thisis40"
A user said: "Brilliant observation! This kind of vacation is out of reach for most people COVID-19 or no COVID-19."
Another user commented: "Lmao reading this as half of my office got laid off today."
In response to her post that read: "Before COVID, I don't think any of us truly appreciated what a simple luxury it was to be able to travel and be together with family and friends in a safe environment," users commented with:
"For my birthday I was sent a notice of unemployment & I haven't seen my mom since March! Hopefully you're happy on your island of fun vacation" and "The utter cluelessness and lack of awareness of the struggle that 99.9% of the people on earth are currently going through right now is disgusting. Your version of "let them eat cake" is beyond cruel. In the end, it never ends well for the Marie Antoinettes of the world."
Her fellow celebrities didn't take kindly to her tone-deaf post either, with Ronan Farrow reposting it on Instagram accompanied by a Boschian hellscape, while musician Peter Frampton wrote on Twitter: "Are you that insensitive you don't realize this is not what the majority of people during the worst covid spike yet want to hear? People are going to food banks not private islands."
Over 232,000 Americans have lost their lives during the COVID-19 pandemic. California, where Kardashian lives, is under a non-essential travel ban. ~Alexandra Heilbron