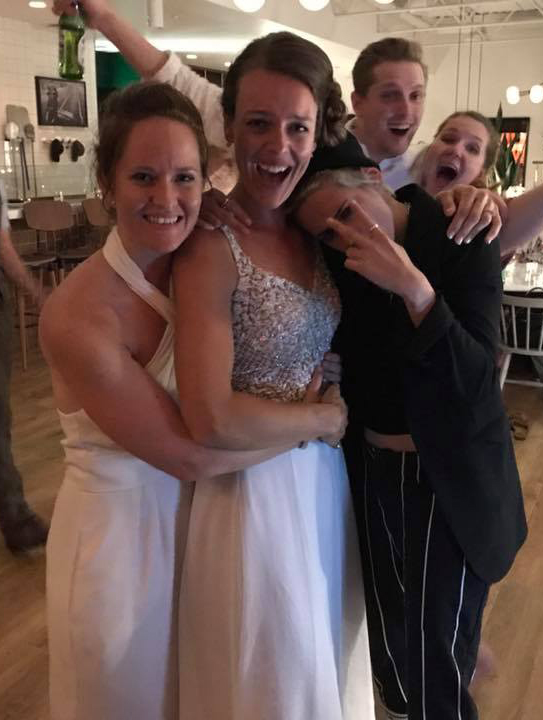 Kristen Stewart and her supermodel girlfriend Stella Maxwell crashed a same-sex wedding in Winnipeg. The couple arrived at Pizzeria Gusto, where the reception was being held and asked if they could join in for a drink.
At about 10 p.m., the owner of the restaurant went over to the two brides, Kayleigh and Kirsten Jennings, and according to the CBC, asked, "Hey, is it OK if Kristen Stewart and her girlfriend Stella come and have a few drinks with you guys?" Kirsten told the news outlet, "I was like, 'Yeah, totally! Yeah, no problem. Um, who is that?'"
Her bride, Kayleigh, who is from Oklahoma, added, "I told Kir, 'Hey, let's just treat them as random guests. Let's just treat them with kindness — southern hospitality. Winnipeg hospitality.'"
Stewart and her girlfriend showed up a half hour later and after congratulating the newlyweds, the actress, wearing a black jacket and black slacks with white pinstripes. posed for a photo with the two brides. "We got to be formally introduced before they came in and partied with us," Kayleigh said. "We got a chance to shake her hand and shake Stella's hand. I actually wasn't as star-struck as I thought I would be."
Kirsten added, "There were only a few people who were star-struck. My Aunt Linda was extremely excited."
DJ K Chedda aka Karli Colpitts posted a photo to Instragram (seen above) with the caption: "Dj'ed a gorgeous wedding for these gals last night and Ms Kristen Stewart (twilight) even made an appearance! Hilarious and amazing night!"
Stewart is in Winnipeg shooting the indie film JT Leroy with Diane Kruger and Laura Dern. ~Alexandra Heilbron