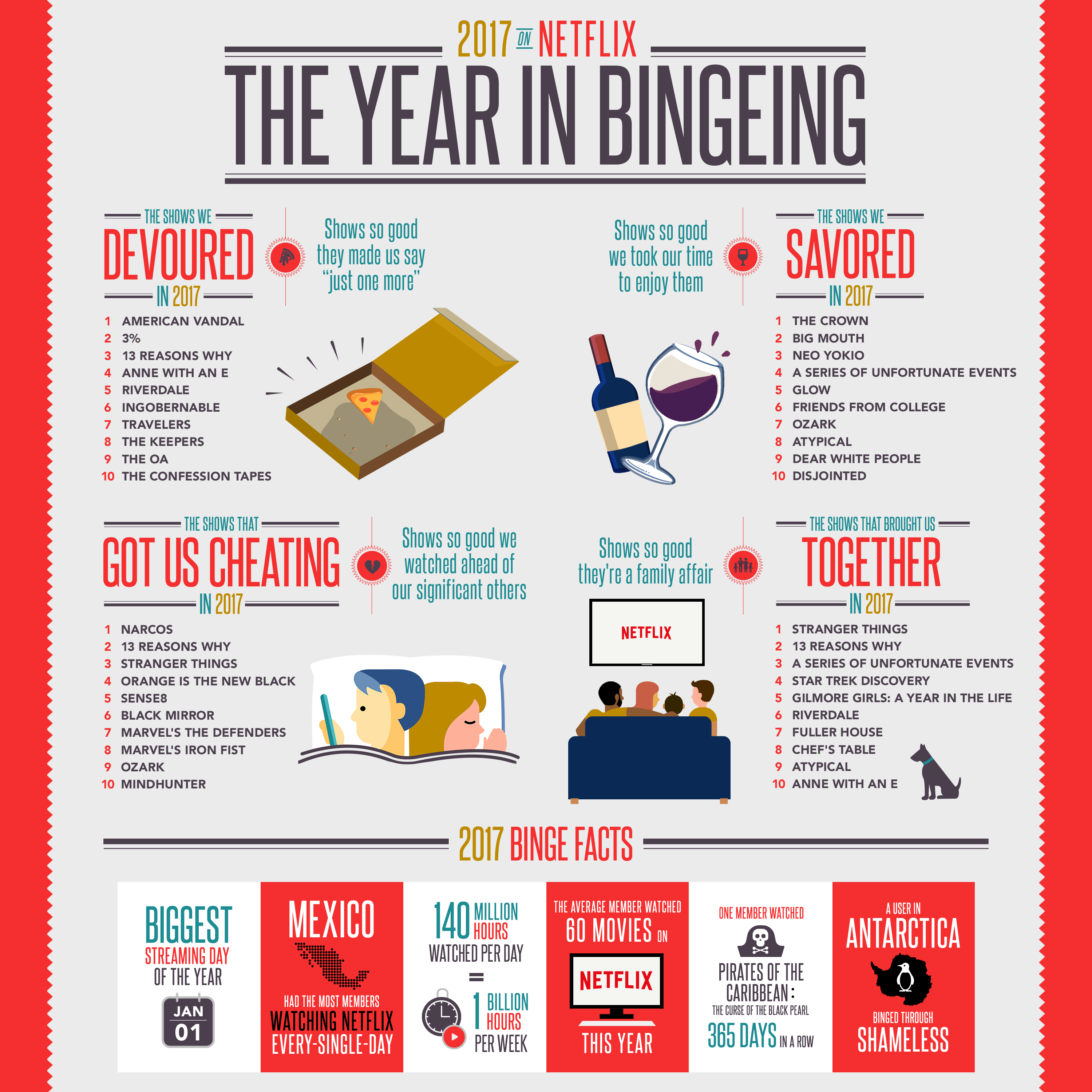 'Twas the year to remember as Netflix swooped in claim the popular vote. Not only is the streaming channel leading the Critics Choice and SAG Awards TV nominations, it's also a favorite in Canada as we (Canadians) rank globally for most members to binge Netflix every single day. What can we say? We love our Netflix bingeing sessions.
It was a busy year in bingeing as members worldwide streamed 140 million hours per day. The year started off with Canadians bingeing on Sunday, January 1, making it the most popular streaming day. Netflix members around the world watched an average of 60 movies on Netflix this year. That's a little more than one movie per week. Normal, right?
Here's a shocking fact: A Netflix member in Canada watched The Lord of the Rings: The Return of the King 361 times in 2017. Yup, a fan alright.
We cheated on our significant others and watched some shows ahead of them, while there were other shows we devoured in a matter of hours (guilty!). So let's break it down as to how and what Canadians were watching on Netflix in 2017. And if you want to stream some more this holiday season, click here to see what's popping.
The Shows That Got Us Cheating in 2017
Netflix members shamelessly watched ahead of their significant others on shows such as Riverdale, Narcos, Stranger Things, Marvel's The Defenders and 13 Reasons Why.
Here are the top 10 shows that got us cheating.
1. Orange is the New Black
2. Stranger Things
3. Narcos
4. Ozark
5. Riverdale
6. 13 Reasons Why
7. Marvel's The Defenders
8. Grace and Frankie
9. The Crown
10. Black Mirror
Shows That Brought Us Together in 2017
Family and friends were brought closer thanks to Chief Hopper, Archie/Veronica woes, and the Gilmore Girls' coffee and drama. Netflix members ranked Stranger Things as the top show to watch together as a family. Here are the rankings:
1. Stranger Things
2. Riverdale
3. 13 Reasons Why
4. Fuller House
5. A Series of Unfortunate Events
6. Gilmore Girls: A Year In The Life
7. Chef's Table
8. Atypical
9. Trollhunters
10. Ultimate Beastmaster
Shows We Devoured in 2017
There were some shows that we quickly devoured in a matter of hours -- no shame in that! The Gilmore Girls revival was among the top shows, as was The OA. The question of "whodunit" (and didn't do it) in The Keepers and The Confession Tapes also had us watching with rapt attention.
1. Greenleaf
2. American Vandal
3. Suburra: Blood on Rome
4. Gilmore Girls: A Year in the Life
5. Ingobernable
6. The Keepers
7. The OA
8. The Confession Tapes
9. Cable Girls
10. The Mist
Shows We Savored in 2017
We needed a laugh this year and we found that solace by savoring (watching less than two hours per day) shows like Wet Hot American Summer: Ten Years Later and Friends from College.
1. The Crown
2. Neo Yokio
3. Wet Hot American Summer: Ten Years Later
4. Ozark
5. A Series of Unfortunate Events
6. GLOW
7. Friends from College
8. El Chapo
9. Atypical
10. Big Mouth
Happy Holidays and happy streaming! ~Marriska Fernandes