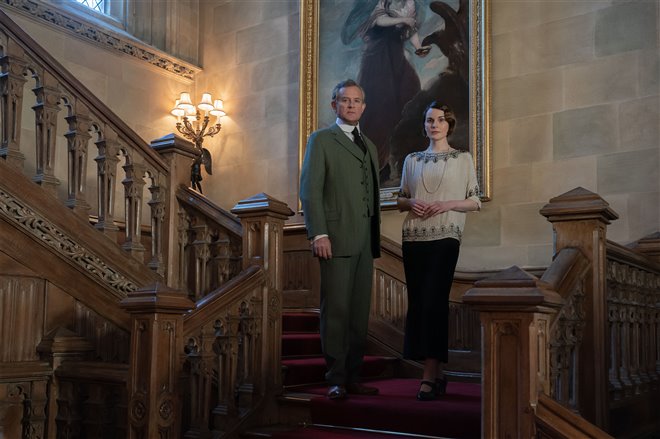 The long-awaited second movie in the continuing saga of Downton Abbey opens in theaters, as well as several other films. We've also included two movies that are playing next Wednesday that you'll definitely want to check out. You'll find descriptions and trailers below. ~Alexandra Heilbron
Downton Abbey: A New Era - Violet, the Dowager Countess of Grantham (Maggie Smith) inherits a villa in the south of France from an old friend. Meanwhile, a filmmaker (Hugh Dancy) gets permission from Mary (Michelle Dockery) to shoot a moving picture at Downton Abbey. Robert (Hugh Bonneville) thinks having actors and actresses hanging around is a terrible idea, but the servants are thrilled. Click here for showtimes. Click here to read our review.
Men - In the aftermath of a personal tragedy, Harper (Jessie Buckley) retreats alone to the beautiful English countryside, hoping to have found a place to heal. But someone or something from the surrounding woods appears to be stalking her. What begins as simmering dread becomes a fully-formed nightmare, inhabited by her darkest memories and fears. Click here for showtimes.
Twenty One Pilots Cinema Experience - Journey inside the minds of Grammy award-winning duo Twenty One Pilots as the Scaled and Icy album release celebration from 2021 comes to cinemas worldwide. With the audio and video remastered for the big screen, and the addition of never-before-seen content, the audience is immersed into the imagination of one of the most creative acts in music. Playing in select theaters May 19 and May 22 only. Click here for showtimes.
Into the Weeds - The powerful story of Dewayne "Lee" Johnson, a former Bay Area groundskeeper who takes on a multinational agrochemical corporation after a terminal cancer diagnosis. Opening in Toronto and Vancouver. Click here for showtimes.
Opening Wednesday:

Elizabeth: A Portrait in Part(s) - A documentary that takes a look at the many aspects of the life of Queen Elizabeth II, the longest-lived, longest reigning British monarch and longest serving female head of state in history. Playing in select theaters on May 25 and May 28 only. Click here for showtimes.

Top Gun Maverick – "Top Gun Wednesday" Early Access Premiere - A special pre-opening fan event to celebrate the theatrical release of Top Gun: Maverick opening across Canada exclusively in theatres. The Early Access Premiere will include one showing of the film on "Top Gun Wednesday," May 25th, in advance of the movie's national release on Friday, May 27th. Playing in select theaters on May 25 only. Click here for showtimes.