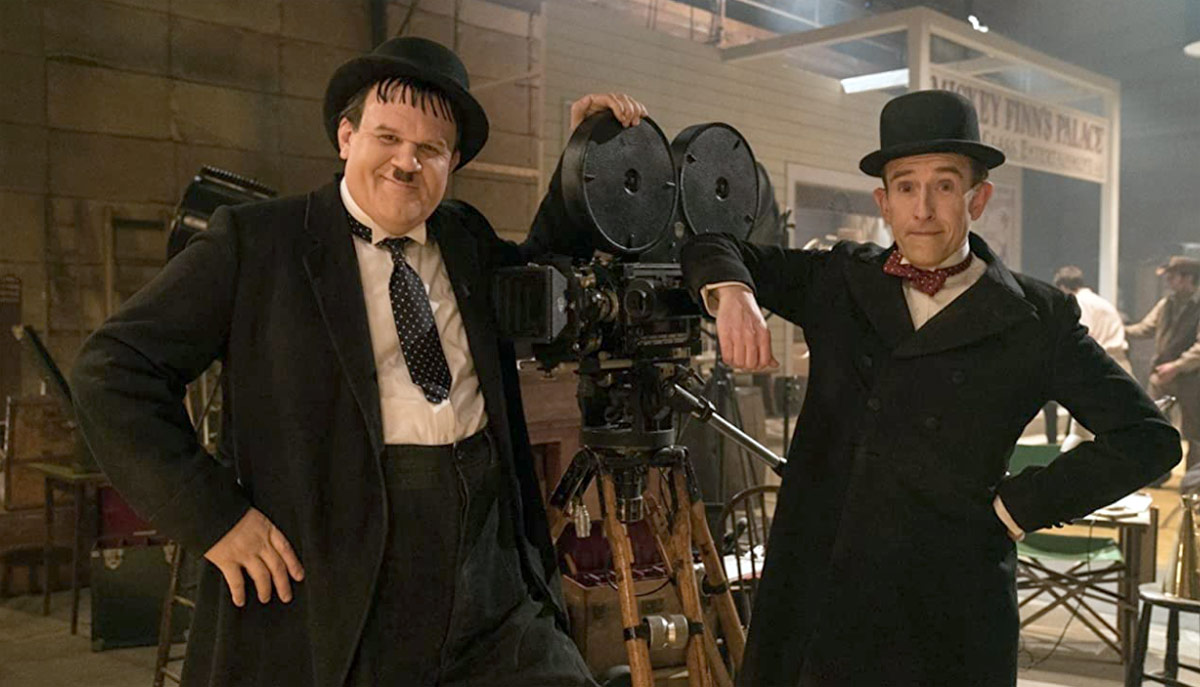 Check out the new DVDs, Blu-rays and streaming shows (Netflix, Amazon Prime Video, BritBox, Apple TV+, Sundance Now, Disney+, Acorn TV and more) coming out this week, including the Oscar-winning film If Beale Street Could Talk and the Golden Globe-nominated biopic Stan & Ollie.  ~Alexandra Heilbron
If Beale Street Could Talk - This film received an Oscar and a Golden Globe in the Supporting Actress category, as well as many other awards. Set in the 1970s, it tells the story of Tish (KiKi Layne) and Fonny (Stephan James), who live in Harlem, New York. Fonny is set up by a racist police officer and falsely accused of rape.  Soon after, Tish discovers she's pregnant with their first child.
Stan & Ollie - About Hollywood's most famous comedy duo during the 1930s and 1940s, Stan Laurel (Steve Coogan) and Oliver Hardy (John C. Reilly), this film earned nominations from the Golden Globes and BAFTAs. Known simply as Laurel & Hardy to millions of their fans, they appeared in over 100 Hollywood movies. In post-war Britain, Laurel and Hardy, both suffering from poor health, try to reignite their film careers as they embark on what becomes their swan song -- a grueling theater tour.
The Crew - A NASCAR owner decides to step down and pass on his responsibilities to his daughter, Catherine. While trying to improve the team and become winners, Catherine decides to switch things up, firing older crew members and replacing them with younger ones who are more tech savvy. These changes don't sit too well with the crew chief (Kevin James), who sees it as his responsibility to protect the crew members he has been working with for years.
February 15
The Circuit: Series 1 and 2 (Acorn TV)
The Crew (Netflix Original)
In Between (Sundance Now)
The Real Prince Philip (Acorn TV)
Styx (Sundance Now)
The Third Wife (Sundance Now)
Unhinged (Netflix)
February 16
A Call to Spy (Blu-ray/DVD/Digital/VOD)
Animals on the Loose: A You vs. Wild Movie (Netflix)
Apollo 11: Quarantine (Apple TV+)
Archenemy (Blu-ray/DVD/Digital/VOD)
Death Trip (VOD)
Fear of Rain (Blu-ray/DVD/Digital/VOD)
Honour (BritBox)
Horizon Line (Blu-ray/DVD/Digital/VOD)
Synchronic (Blu-ray/DVD/Digital/VOD)
Teen Titans Go!: Season 5 (Netflix)
The Very Excellent Mr. Dundee (Blu-ray/DVD/Digital/VOD)
Who Killed Lt. Van Dorn? (Sundance Now)
February 17
Behind Her Eyes (Netflix Original)
Date Movie (Amazon Prime Video)
Hello, Me! (Netflix Original)
MeatEater: Season 9, Part 2 (Netflix Original)
February 18
Drishyam 2 (Amazon Prime Video)
Playing for Keeps: Season 2, Episode 1 (Sundance Now)
Thus Spoke Kishibe Rohan (Netflix)
Vikings: Season 4 (Netflix)
February 19
El Internado: Season 1 (Amazon Prime Video)
Flora & Ulysses (Disney+)
For All Mankind: Season 2 (Apple TV+)
I Care a Lot (Amazon Prime Video Original)
It's A Sin: Season 1 (Amazon Prime Video)
The Muppet Show: Seasons 1 to 5 (Disney+)
Silk Road (VOD/Digital)
The Sinners (VOD)
Some Kind of Heaven (VOD)
Tell Me Your Secrets (Amazon Prime Video)
Tribes of Europa (Netflix Original)
WandaVision: Episode 7 (Disney+)
February 20
A Discovery of Witches: Season 2, Episode 7 (Sundance Now Original)
Classmates Minus (Netflix)
If Beale Street Could Talk (Netflix)
Stan & Ollie (Netflix)