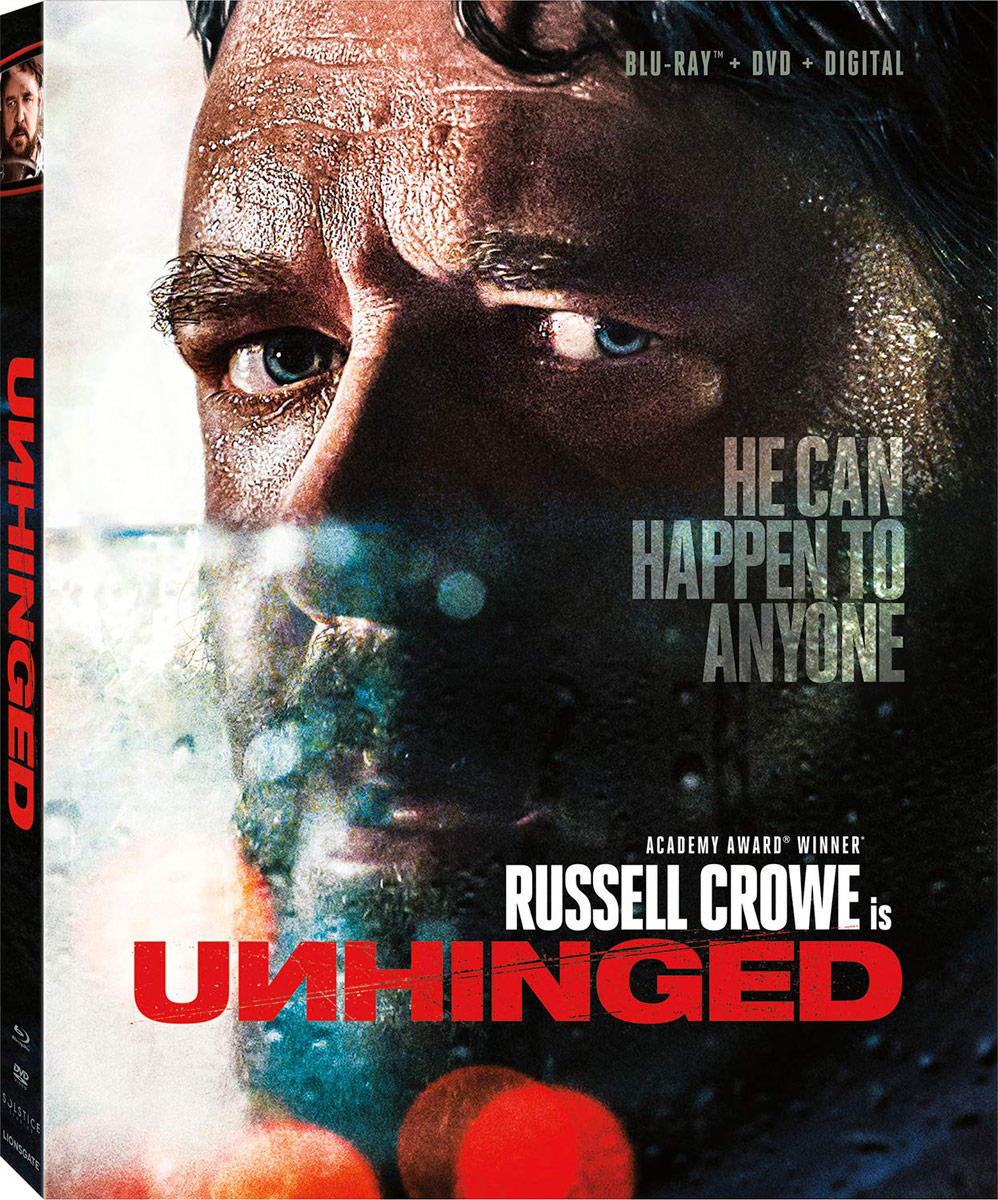 Check out the new DVDs, Blu-rays and streaming shows (Netflix, Amazon Prime Video, BritBox, Acorn TV, Sundance Now, Apple TV and Disney+) coming out this week, including some of the first theatrical box office hits following the COVID-19 lockdown: Unhinged and The New Mutants. ~Alexandra Heilbron
Unhinged - Rachel (Caren Pistorius) is driving her son (Gabriel Bateman) to school when her first client of the day calls and fires her for being late. When she pulls up behind a truck, the driver doesn't notice that the red light has turned to green. She waits for a moment, then honks in frustration and finally, as the light is turning yellow, pulls out around him and heads for the freeway. In a traffic jam up ahead, the man (Russell Crowe) in the truck stops beside her and asks for an apology. When he doesn't get one, he decides he's going to make sure Rachel has the worst day of her life. Available November 17 on Blu-ray, DVD, VOD and Digital.
The New Mutants - Following an accident, Danielle "Dani" Moonstar (Blu Hunt) awakes at a medical facility to discover she's handcuffed to a gurney. Other patients include Rahne (Maisie Williams), Sam (Charlie Heaton), Roberto (Henry Zaga), and Illyana (Anya Taylor-Joy), who each have powers. It soon becomes apparent that this facility is a prison for the troubled youths and that Dr. Reyes (Alice Braga) has ulterior and sinister motives for their treatments. Available November 17 on Blu-ray, DVD, VOD and Digital.
Summerland - Alice (Gemma Arterton) is a reclusive writer, resigned to a solitary life on the seaside cliffs of Southern England during WWII. One day, she finds out she has no choice but to give a home to a young evacuee from London, named Frank, whose father is a pilot in the war. Frank struggles with her initial coldness, but as Alice gets to know the shy boy, she discovers they have things in common. When the woman who placed Frank at Alice's home shows up with bad news, Alice realizes she's the only one who can help the young boy. Available November 17 on Blu-ray, DVD, VOD and Digital.
Relic - Ever since their grandfather died, the family home has never been the same. Kay (Emily Mortimer) and her daughter Sam (Bella Heathcote) return to the home after Kay's mother Edna is reported missing. But soon after, Edna returns with no explanation. Her behavior becomes increasingly unstable and Kay and Sam begin to sense that a sinister presence within the house could be behind this all. Available November 17 on Blu-ray, DVD, VOD and Digital.
November 15
A Very Country Christmas (Netflix)
The Beach House (DVD/Blu-ray/VOD/Digital HD)
Best Wishes, Warmest Regards: A Schitt's Creek Farewell (Amazon Prime Video)
The Crown: Season 4 (Netflix Original)
Dr. Seuss' How the Grinch Stole Christmas (Amazon Prime Video)
Hometown Holiday (Netflix)
Love Actually (Amazon Prime Video)
Rising Damp (BritBox)
Schitt's Creek: Season 6 (Amazon Prime Video)
November 16
A Model Daughter: The Killing of Caroline Byrne (Acorn TV)
Beyond Right and Wrong (Sundance Now)
From Nowhere (Sundance Now)
Law & Order UK: Season 1 (Acorn TV)
Marjorie Prime (Sundance Now)
November 17
2067 (Blu-ray/DVD/VOD/Digital)
The Boss Baby: Back in Business: Season 4 (Netflix Family)
Dreamland (VOD/Digital)
LEGO Star Wars Holiday Special (Disney+)
The Mule (Netflix)
Our Girl: Season 4 (BritBox)
Relic (Blu-ray/DVD/VOD/Digital)
Monstrum (DVD/Blu-ray/VOD/Digital)
The New Mutants (Blu-ray/DVD/VOD/Digital)
Paydirt (Blu-ray/DVD/VOD/Digital)
Summerland (Blu-ray/DVD/VOD/Digital)
Unhinged (Blu-ray/DVD/VOD/Digital)
Words on Bathroom Walls (DVD/Blu-ray/VOD/Digital)
We Are the Champions (Netflix Original)
November 18
Holiday Home Makeover with Mr. Christmas (Netflix Original)
No Gogo Do Paulinhó (Amazon Prime Video)
Waves (Amazon Prime Video)
The Wonderful World of Mickey Mouse (Disney+)
November 19
Cold Call (Sundance Now)
Historias Lamentables (Amazon Prime Video)
Maara (Amazon Prime Video)
Marvel's 616 (Disney+)
Magic of Disney's Animal Kingdom: Episode 109 (Disney+)
The Mandalorian: Episode 204 (Disney+)
The Princess Switch: Switched Again (Netflix Film)
One Day At Disney: Episode 151 (Disney+)
The Real Right Stuff (Disney+)
The Right Stuff: Episode 108 (Disney+)
Riveria: Season 3, Episode 3 (Sundance Now)
November 20
Alien Xmas (Netflix Film)
Blindfire (VOD/Digital)
Collective (VOD/Apple TV)
Flavorful Origins: Gansu Cuisine (Netflix Documentary)
If Anything Happens I Love You (Netflix Film)
One Foot in the Grave: Season 4-6 (BritBox)
The Pack (Amazon Prime Video)
Team Marco (VOD/Digital)
Voices of Fire (Netflix Original)
Watson (Digital)
November 21
The Hangover: Part III (Netflix)
The Matrix Reloaded (Netflix)
The Matrix Revolutions (Netflix)
The New Statesman (BritBox)