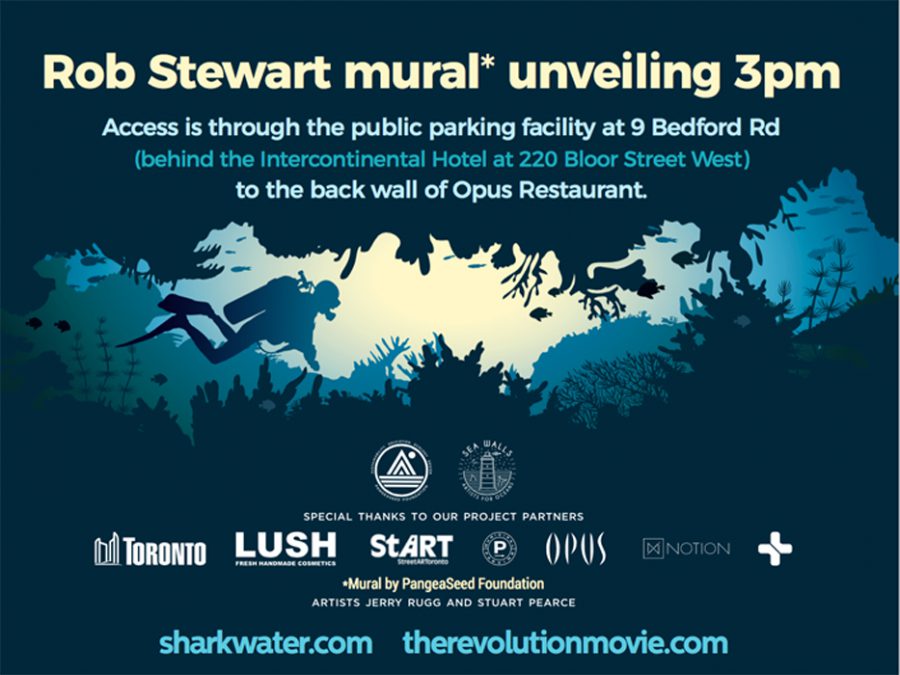 A tribute mural in honor of the memory of late conservationist and filmmaker, Rob Stewart, will be unveiled in his hometown of Toronto on September 9, 2017.


At 3 pm a public unv­eiling of the mural will take place in the public parking fa­cility at 9 Bedford Rd, (behind the Inte­rcontinental Hotel on Bloor St) with gue­st speakers followed by a Q&A.


Prior to the unveiling, free screenings of Stewart's award-winning documentary films will take place -- Sharkwater at 10 a.m. and Revolution at 12 p.m. in the Innis Town Hall Theater at University of Toronto. Make sure to get there early, as seating is limited.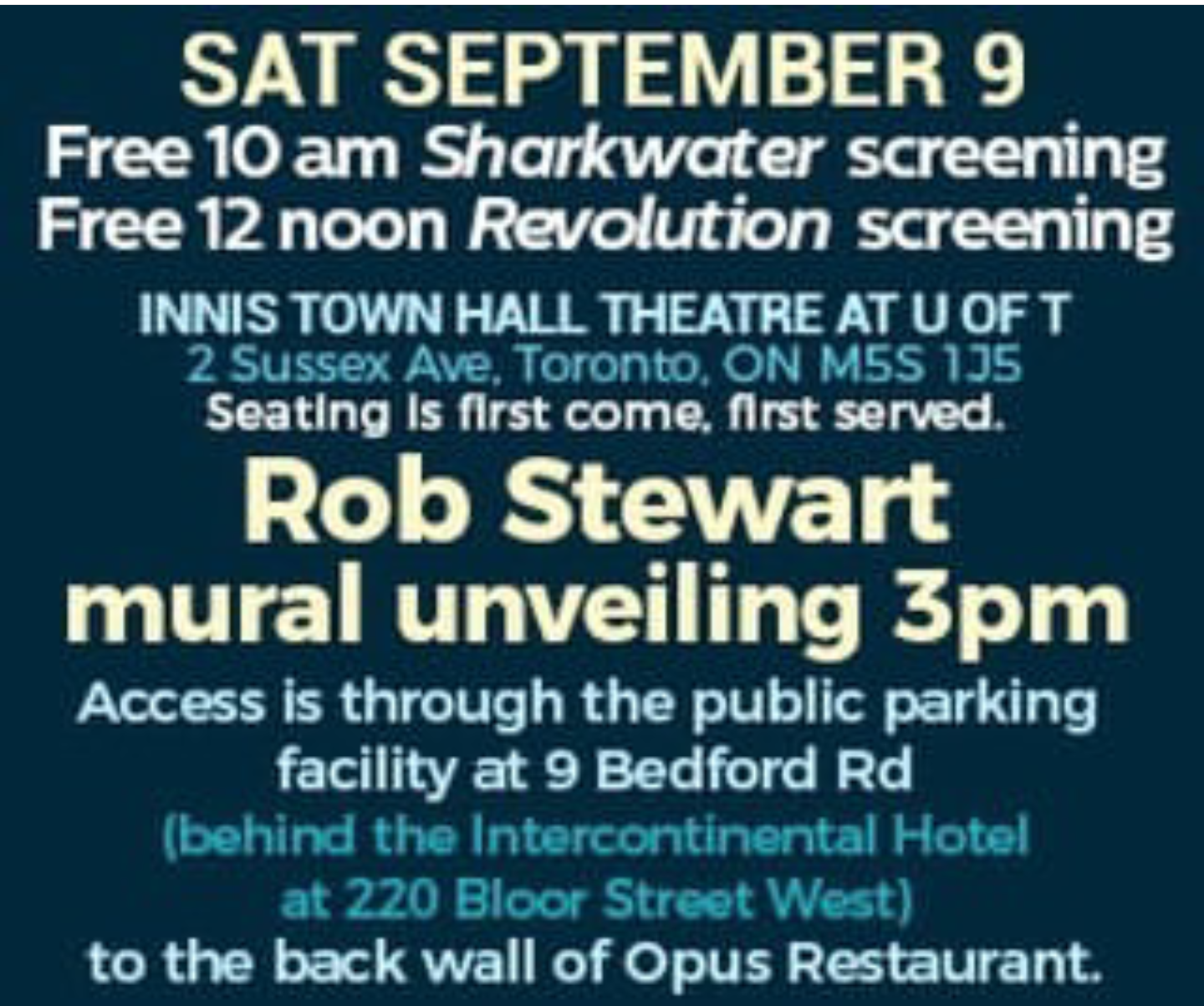 The mural is part of PangeaSeed Foundation's Sea Walls: Artists for Oceans program. The Sea Walls initiative aims to educate and inspire individuals and communities to generate greater awareness and explore creative solutions surrounding pressing marine environmental issues.
Since Stewart's passing earlier this year, the PangeaSeed Foundation has created two tribute murals -- in Miami, Florida and Hawkes Bay, New Zealand; focusing on the preservation and beauty of the shark species Rob selflessly dedicated himself to protect.
"Public art and activism can educate and inspire the global community to help save our seas. Regardless of your location, small seaside village or large metropolitan city like Toronto, the ocean supplies us with every breath we take and life on Earth cannot exist without healthy oceans," said Tre' Packard, founder and executive director of PangeaSeed Foundation. "As 'ARTivists' we believe that using our talent to raise social and environmental awareness, as Rob did through film and photography, we can inspire positive change and action."
To help fund Dakuwaqa Project and to provide supporters with a reminder of what Rob stands for, a series of art prints have been made available online at www.Dakuwaqaproject.com in collaboration with renowned artists Dave Kinsey, Brad Klausen, Caia Koopman and Marko Manev. Each art print highlights a marine species or ocean environment Rob cared so passionately about.
"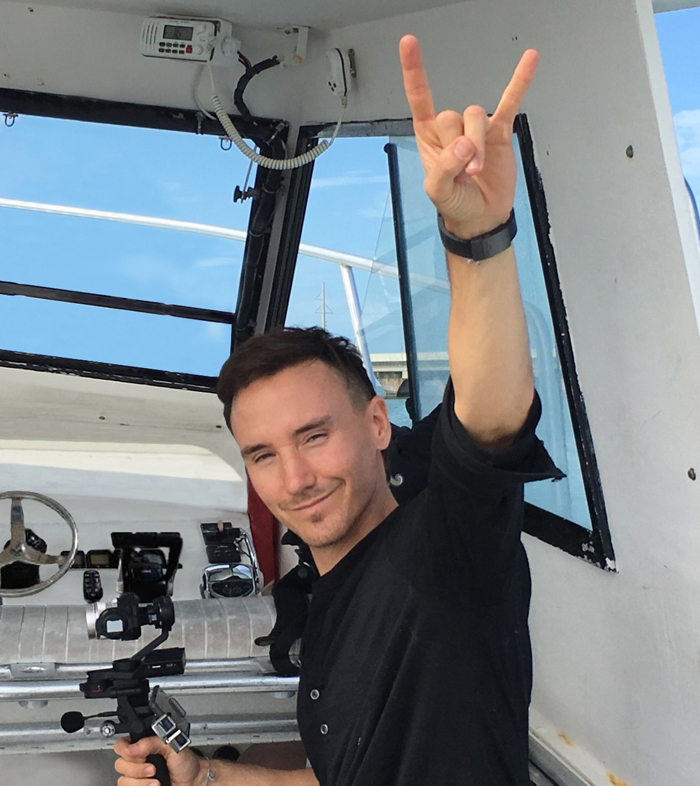 It's an honor to be able to continue to honor Rob's legacy," said Tre' Packard. "None of this would be possible without our amazing partners: the City of Toronto, StreetARToronto, the Toronto Parking Authority, Lush Natural Cosmetics, Opus Restaurant, Notion, and Love Letter Projects. Seeing all of them come together for this great cause shows the impact that Rob had in our community and around the globe."
Rob Stewart dedicated his life to preserving our oceans and life on Earth. As an artist himself, Rob knew that art and creativity stir something inside all of us that reminds us of who we truly are and what we stand for. Stewart's life's mission was to wake up the human race and show them that what is out of sight, beneath the waves, cannot be out of mind as our existence on Earth relies on the health of the ocean.
Still set for completion, Sharkwater: Extinction works to further expose the multi-billion dollar shark industry that is secretly driving shark products into our everyday lives while simultaneously causing the mass extinction of one of Earth's most important animals.