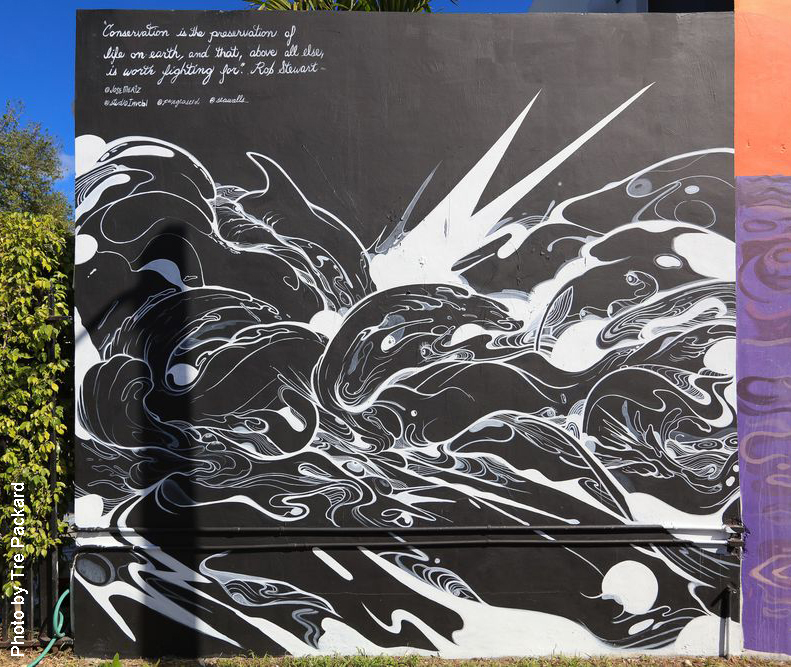 PangeaSeed Foundation, an international non-profit organization whose mission it is to empower individuals and communities to create meaningful environmental change for oceans, collaborated with artists in Miami and New Zealand to create "Seawalls" murals, including tribute murals for late filmmaker Rob Stewart, whose award-winning movie Sharkwater saved the lives of millions of sharks around the world, as well as touching the hearts of audiences.
Tre Packard, the founder of PangeaSeed, was a personal friend of Rob's.
PangeaSeed wrote: "We collaborated with Jose to create a special tribute mural for ocean brother Rob Stewart / @teamsharkwater."
Artist Jose Mertz describes his mural, pictured here: "I wanted to capture the strength, flow and power of the ocean by doing a monotone linear piece that had no preconceived thought. The work is also a commemoration to the late Rob Stewart who selflessly dedicated his life to the ocean, its exploration, educating others on its importance and saving misunderstood species, such as sharks, from extinction."
The quote on the mural is from Rob Stewart, and reads: "Conservation is the preservation of life on earth, and that, above all else, is worth fighting for."
Rob went missing during a dive in Florida on January 31, 2017. He was working on a sequel to Sharkwater at the time. The sequel, titled Sharkwater: Extinction, is still in production and will be completed by his team to honor his memory. ~Alexandra Heilbron