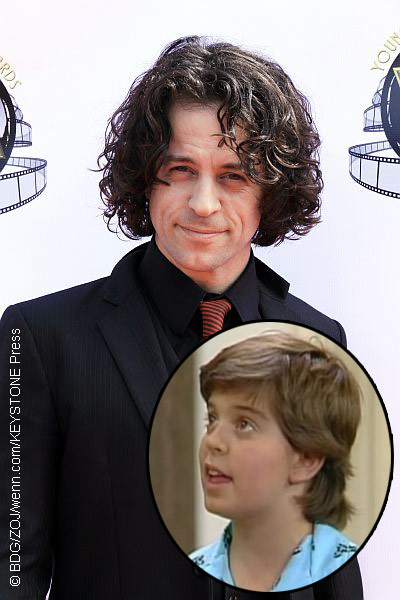 Alexander Polinsky (pictured at left), who co-starred with Scott Baio and Nicole Eggert on the '80s sitcom Charles in Charge, held a press conference today alongside his attorney, Lisa Bloom, to corroborate Eggert's claims of Baio's inappropriate sexual advances on her when she was a minor, but also to detail the abuse he allegedly suffered at Baio's hands.
He told the media he was thrilled when he landed the role of Adam Powell on the series, because "Scott Baio was a hero to me." Baio played his nanny on the show, and Nicole Eggert played Alexander's older sister.
Alexander went on to say, "During the first year I observed Scott with Nicole on his lap backstage." He remembered that he hopped on Baio's lap as well, "hoping to hear a story about Happy Days or Fonzie." He says Baio grew angry and threw him off his lap, calling him a "faggot."
Following that incident, Alexander says Baio would tell him about gay sex acts that he predicted Alexander would grow up to perform, saying it was for his own good. He also allegedly told the 11-year-old actor he was unlovable, and one time pulled down the young actor's pants in front of 100 people. Alexander told of Baio cutting a hole in Alexander's canvas dressing room, then exposing his genitals to the boy.
The alleged abuse continued through the run of the show, and Andrew says he believes he was targeted because of what he'd witnessed Baio doing with Nicole. Other alleged incidents include Baio throwing a hot cup of tea in Alexander's face, and telling him he would never be loved by a woman because he was too effeminate. Alexander claims the adults who worked on the show knew what was happening, but kept silent because they feared losing their jobs.
Alexander concluded by saying he wants to be a small part of the change in the world. "If kids are going to work, they should be protected from abuse," he said. He also wants to expose predators to keep them from harming kids again. He said he prays for Scott, and hopes he can realize his wrongdoings. Both he and Nicole want a public apology, which they say will help everyone to heal.
Nicole stepped up to the microphone to say she witnessed Baio verbally and physically abusing Alexander. She corroborated the situation in which Alexander was thrown to the ground and agreed that the abuse started directly after that incident. She added that Alex was tripped, pushed around and berated with homosexual slurs because he witnessed something he was not supposed to see.
She told the media in attendance: "Our innocence was robbed. What was supposed to be the best time of our lives was a living nightmare," adding, "It is never too late to come forward, it is never too late to start your healing process." When asked why nothing happened during the run of the show to curtail Baio's behavior -- was it because he was the star? She agreed, describing Baio as "demanding," adding, "He was a tyrant."
Interestingly, she added that she knew Baio made inappropriate advances on other women during the run of the show, but didn't offer any names.
Baio is scheduled to hold his own conference later today. ~Alexandra Heilbron