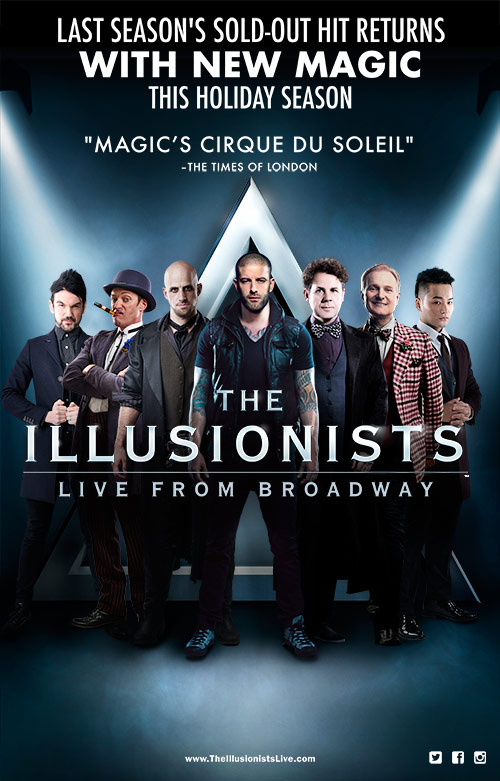 The Illusionists: Live from Broadway opened last night in Toronto at the Princess of Wales Theatre and it's nothing short of mesmerizing.
The show features seven magicians, each with their own unique strengths. Colin Cloud, a.k.a. The Deductionist, combines humor and mind-reading for a fantastic show opening. Later on, he came back and had everyone yell out their birthdates. He then would shout out a birthdate and have the person with that birthday stand up, so he could reveal what they were thinking. I was sure they were "plants," but as I was leaving, another audience member told me her daughter had been one of the ones chosen and they were both flabbergasted by his accuracy. Everything he told each person was spot on -- sometimes psychics will get things wrong and try to cover, but Cloud didn't have to -- everything he said got a distinct "yes" from the audience member.
Raymond Crowe, The Unusualist, showed off his ventriloquism talents by bringing an audience member up on stage, asking him questions and then throwing his voice so the man sounded like he was a little girl, giving ridiculously funny answers.
Charlie Frye gave performances, alongside his wife, Sherry, that brought the audience back in time to vaudeville days. At the same time, his magic and especially his juggling were so mind-blowing that I was awestruck. The Daredevil, Jonathan Goodwin, did several death-defying stunts, including being doused in gasoline and lit on fire while hanging from the ceiling in a straitjacket, which drew gasps from the crowd.
Jeff Hobson, known as The Trickster, was the hilarious master of ceremonies, dazzling the audience with his wit and an ample amount of sparkles on his clothing and shoes. At one point, he brought a little boy up on stage in what wound up being an absolutely side-splitting bit, as the boy played along with Hobson's banter.
An Ha Lim, a.k.a. The Manipulator, amazed the audience with card magic, as multitudes of cards kept appearing in his hands as soon as he tossed them to the floor. What I found to be a fantastic addition to the show was that a camera person is on the stage as the performances are happening, so that all the illusions can be seen up close and from all angles. Canadian Darcy Oake, billed as The Grand Illusionist, used this to his advantage in his disappearing act to show that when certain stunts are done on TV, viewers may believe it was a camera trick, but when you see it live, there's no denying that it's really a well-polished illusion that leaves you asking, "How did he do that?"
I've watched TV shows that reveal the secrets behind many illusions, but every single trick performed during The Illusionists was fresh and I had no idea how any of it was done. We were literally blown away, which is how magic shows should leave you -- wondering how on earth?
The Illusionists - Live From Broadway runs at the Princess of Wales in Toronto until January 7, 2018. Click here for more info and to get tickets. ~Alexandra Heilbron