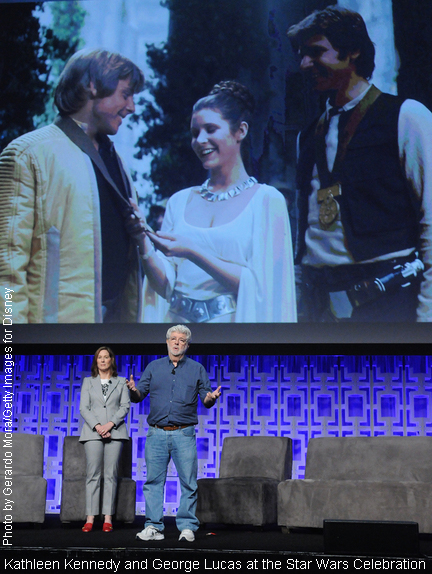 If the new trailer release for Star Wars: The Last Jedi wasn't enough to fill your need for Star Wars news, Lucasfilm President Kathleen Kennedy teased during an interview with MTV at this past weekend's Star Wars Celebration in Orlando that they are "very close" to making an announcement regarding the third Star Wars standalone film.
She hints that they would most likely make the announcement in the next few months, saying, "My hope would be sometime around the summer. I never want to predict the creative process because it is its own thing, so we're in the midst of those discussions right now."
With the success of Rogue One: A Star Wars Story and much anticipation around the new Han Solo movie, many are anxious to learn what the third film in the standalone trilogy will be. It was nearly announced in 2015 that a new Boba Fett film would be coming to the big screen, but after Fantastic Four director Josh Trank left the project, nothing has been said about it since.
Kathleen also gave a little more insight into the current Star Wars saga unfolding on the big screen, saying that the story will tie up and conclude with 2019's Episode IX: "There's no question that this is set up as a trilogy and that three-act structure of the set-up, the conflict, and the resolution very much is what we have planned."
Seems Star Wars fans have much to be excited about in the years to come! ~Alexa Caruso