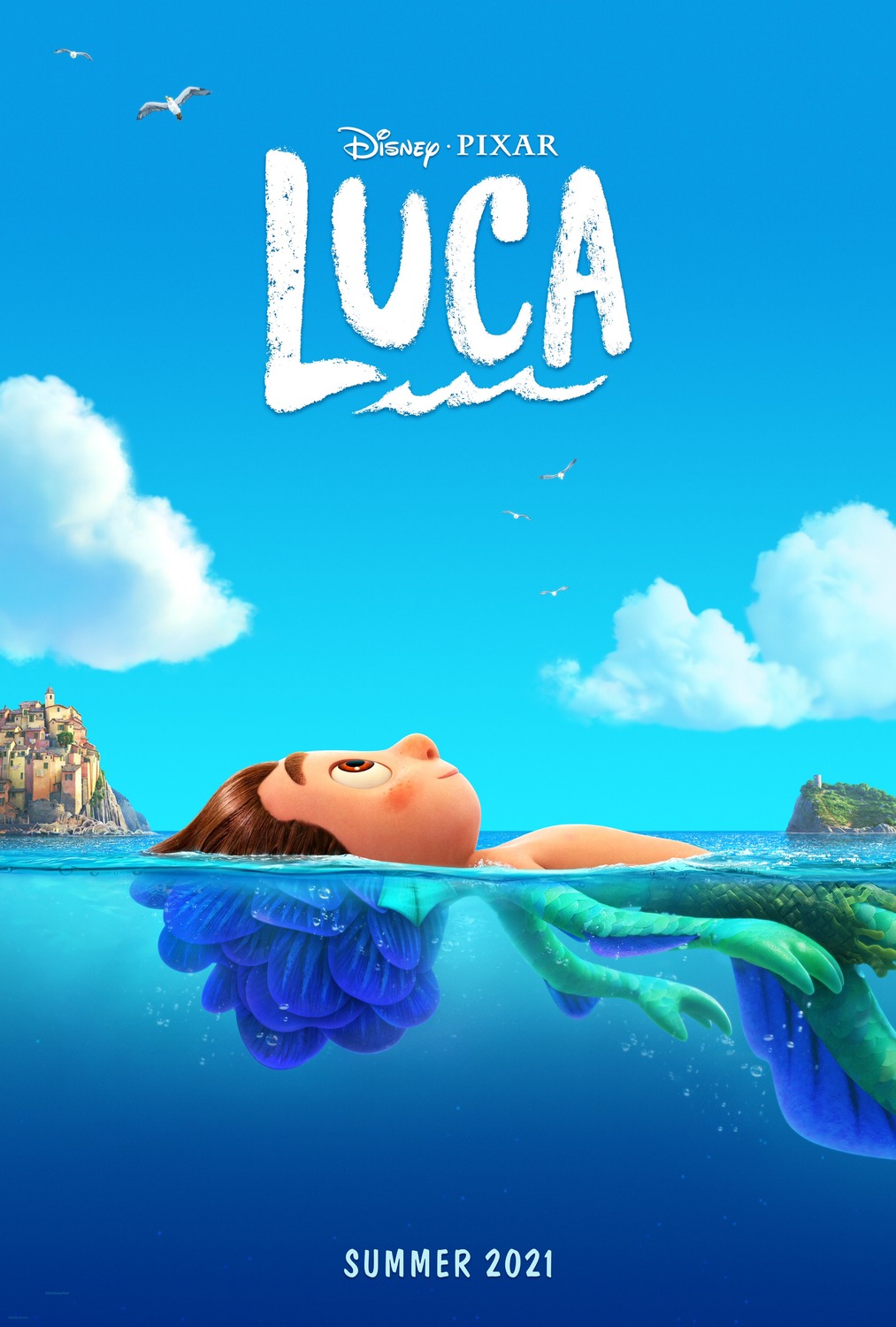 Check out the new DVDs, Blu-rays and streaming shows (Netflix, Amazon Prime Video, Disney+, BritBox and more) coming out this week, including the Pixar/Disney animated movie Luca starring Jacob Tremblay. FYI: BritBox currently has a summer promotion from June 11 to June 22. Head over to BritBox and get 50 percent off the first three months of a one-year subscription using the code SUMMER to enjoy a variety of British programming! ~Alexandra Heilbron
Luca - Set in a beautiful seaside town on the Italian Riviera, Disney and Pixar's original feature film Luca is a coming-of-age story about one young boy experiencing an unforgettable summer filled with gelato, pasta and endless scooter rides. Luca (voice of Jacob Tremblay) shares these adventures with his newfound best friend, Alberto (voice of Jack Dylan Grazer), but all the fun is threatened by a deeply-held secret: they are sea monsters from a world just below the water's surface. Streaming on Disney+ beginning June 18.
Godzilla vs. Kong - Kong has been taken in by humanity in order to fight against an impending doom. The only person able to communicate with Kong is a child, whom Kong appears to have sworn to protect. During Kong's transportation, the fleet of ships are attacked by Godzilla, and a battle between the two kaijus begins. As their battle is taken to an international level, it appears the two have history, as they are the last of their kind after a long war between the two species. Available June 15 on DVD/Blu-ray/VOD/Digital.
Flack - Equal parts drama and comedy, Anna Paquin stars as Robyn, a flack; a sharp and witty PR agent who's an expert at her craft but a self-saboteur when it comes to her personal life. With the world of high-stakes public relations as the perfect backdrop, the second season of Flack centers on Robyn and her colleagues who must figure out how to make the best of bad situations and get out unscathed. Now playing on Amazon Prime Video.
Stephen Moyer talks about directing his wife (and former True Blood co-star) Anna Paquin in Flack.
French Exit - Twelve years after Manhattan socialite Frances Price's (Michelle Pfeiffer) husband suddenly dies of a heart attack, she's spent all of her inheritance and is broke. When a friend offers Frances her apartment in Paris, she and her son Malcolm (Lucas Hedges) pick up and move. In Paris, they make friends with a group of eccentric characters who help when Frances' cat goes missing, because Frances believes the cat is the reincarnation of her husband. Available June 15 on DVD/Blu-ray/VOD/Digital.
June 14
Elite Short Stories (Netflix)
Ms. Fisher's Modern Murder Mysteries: Season 2 – Episode 3 (Acorn TV)
The Prime of Miss Jean Brodie (Acorn TV)
The Real Manhunter (Acorn TV)
The Sun Is Also a Star (Netflix)
Whitstable Pearl: Series 1 – Episode 5 (Acorn TV)
June 15
Akilla's Escape (VOD/Digital)
Anything for Jackson (DVD/Blu-ray)
Big Sonia (Sundance Now)
Desperado (Netflix)
Enfant Terrible (VOD)
Every Breath You Take (VOD/Digital)
Fear (DVD/Digital)
Intruder (BritBox)
Power Rangers Dino Fury: S1 (Netflix)
Queen of Spades (VOD/Digital)
Rhyme Time Town: S2 (Netflix)
SAS: Red Notice (DVD/Blu-ray/VOD/Digital)
Seahorse (Sundance Now)
The Space Between (VOD/Digital)
Sweet Country (Sundance Now)
Take Back (VOD/Digital)
Unwind Your Mind (Netflix)
Vanquish (DVD/Blu-ray)
Voyagers (DVD/Blu-ray/VOD/Digital)
The Walking Dead: World Beyond: Season 1 (DVD/Blu-ray)
Woe (VOD/Digital)
Your Honor (DVD)
June 16
Loki: S1, New Episode (Disney+)
Penguin Town (Netflix)
Silver Skates (Netflix)
June 17
Black Summer: S2 (Netflix)
The Gift: S3 (Netflix)
The Gulf: S2, Episode 3 (Sundance Now)
Hospital Playlist: S2 (Netflix)
Katla (Netflix)
Monster Hunter (Amazon)
June 18
A Family (Netflix)
Big Shot: S1, Finale (Disney+)
Censor (VOD)
Chivas: El Rebaño Sagrado: S1 (Amazon Original)
El Corazón De Sergio Ramos: S2 (Amazon Original)
Elite: S4 (Netflix)
Fatherhood (Netflix)
Grown-ish: S3, New Episode (Disney+)
High School Musical: The Musical: The Series: S2, New Episode (Disney+)
Jagame Thandhiram (Netflix)
Love, Victor: S2 premiere (Disney+)
Luca (Disney+)
Marvel's M.O.D.O.K.: S1, New Episode (Disney+)
Physical (Apple TV+)
The Rational Life (Netflix)
Star Wars: The Bad Batch: S1, New Episode (Disney+)
Wild And Free: Florianópolis: S2 (Amazon Original)
The World's Most Amazing Vacation Rentals (Netflix)
June 19
Booksmart (Netflix)
Nevertheless (Netflix)
June 20
Creation Stories (VOD/Digital)