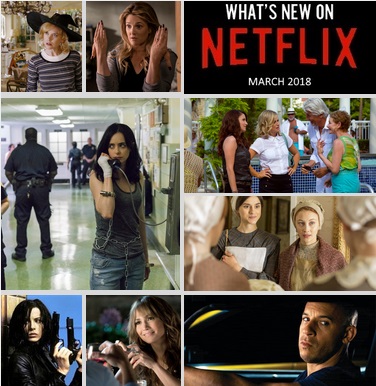 Nothing brings people together like a shared interest in movie magic. Be it the sleeper hit flick or the we-love-that-movie flick, or even the I-watched-that-in-a-day series, there's always some Netflix gem that bonds people. Unless you're one that sneakily stays up late and binges a series ahead of your partner (high-five mate!).
March looks very promising as Marvel's Jessica Jones Season 2 arrives in full force, and having seen a sneak peek of the first few episodes, I'd definitely say it's a binge-in-a-day season. March also brings refreshing new seasons of Santa Clarita Diet and A Series of Unfortunate Events.
Originals
Marvel's Jessica Jones Season 2 (Mar. 8) takes a look back at Jessica's past as to how she acquired her super powers. Jessica takes the help of her friend Trish to dig into the experiments all the while drinking her income away and  entertaining us with her dry wit and dark humor. Another series serving a second helping of humor is Santa Clarita Diet (Mar. 23) starring Drew Barrymore and Timothy Olyphant. If that doesn't satisfy your appetite, how about a second season of A Series of Unfortunate Events (Mar. 30)?
Requiem (Mar. 23) Season 1 follows a young girl who searches for answers about her past after her mother commits suicide. She uncovers a sinister secret and that's enough to get us hooked. If the dead don't interest you, how about some human emotion? There's cuteness overload with Benji (Mar. 16), which follows an adorable mutt who is adopted by a kind family and then helps rescue the kids when they're abducted.
Inspiration 101
For that confidence booster you need to follow your dreams, watch Steve Jobs (Michael Fassbender) as he takes us behind-the-scenes of the digital revolution. Lacking in the faith department? Miracles from Heaven (Mar. 27) tells the true story of 12-year-old Annabel Beam, who suffers from a rare incurable digestive disorder, while her mother Christy (Jennifer Garner) searches for a solution.
Comedies
On a rather unholy side, Sleeping with Other People follows a serial cheater and a womanizer who enter a platonic relationship. You can guess what happens next.
Amy Poehler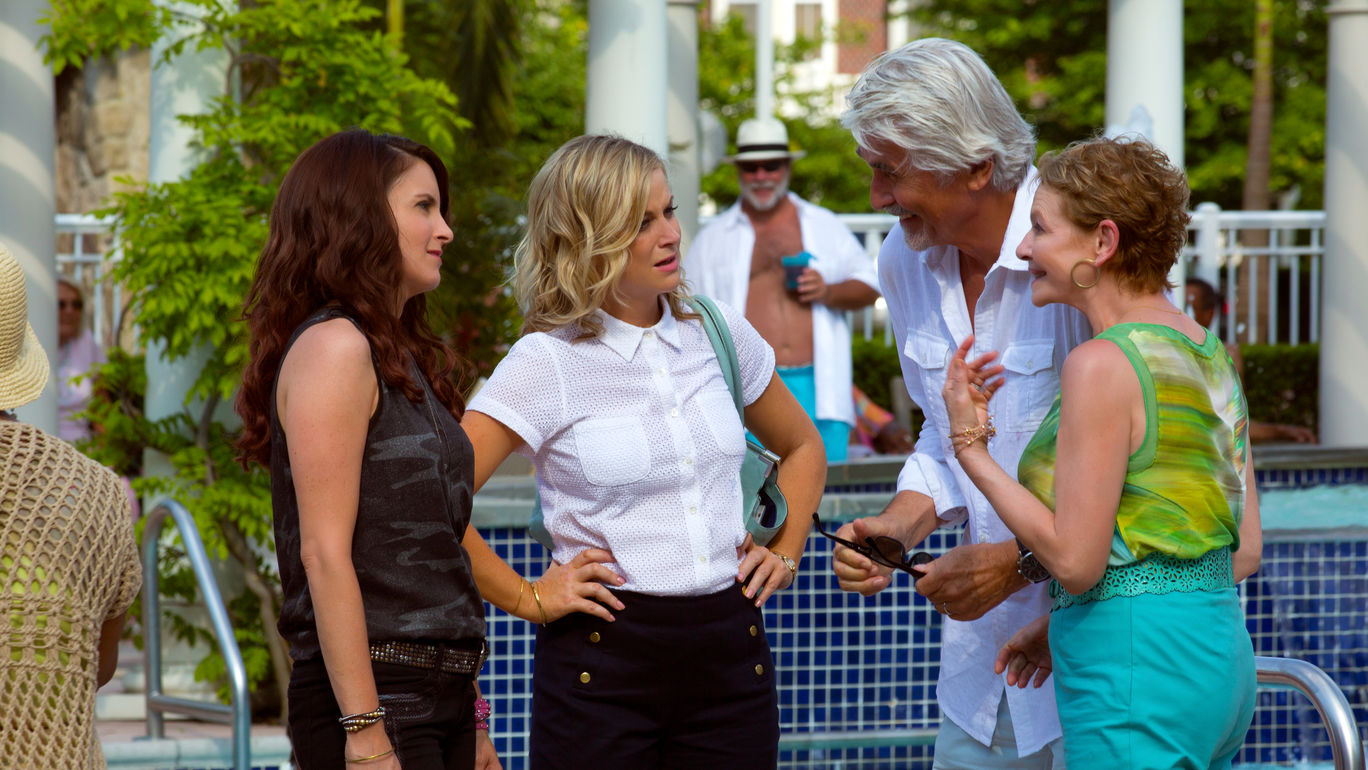 and Tina Fey are the dynamic duo that bring down the house with a booze-fueled party in Sisters (Mar. 1). If these two weren't enough, there's eye candy Ryan Reynolds who teams up with Samuel L. Jackson in The Hitman's Bodyguard (Mar. 16).
Popcorn Flicks
You know it's wedding season when you see a list of these movies. The Back-Up Plan (Mar. 31) follows Jennifer Lopez, a woman tired of looking for Mr. Right and decides to have a baby on her own. But after she's artificially inseminated, she meets her perfect match. Of course.
What to Expect When You're Expecting (Mar. 3) follows the lives of five interconnected couples as they experience the thrills and surprises of having a baby.
If babies aren't your cup of drool, watch Nicole Kidman reinvent herself in Bewitched (Mar.31), based on the beloved 1960s sitcom.

Thrills and Horror Galore
The buzzworthy limited series Alias Grace (Mar. 25) is finally on Netflix and will satisfy your appetite for some crime drama. A horror film I'm happy to watch again is The Forest (Mar. 1), which follows Sara, who travels to Japan to search for her twin sister Jess, who has mysteriously disappeared in the Aokigahara Forest -- a place where people go to end their lives. If you can't stomach this haunted forest thriller, you could help yourself to Pride and Prejudice and Zombies (Mar. 29).
Eye Candy & Abs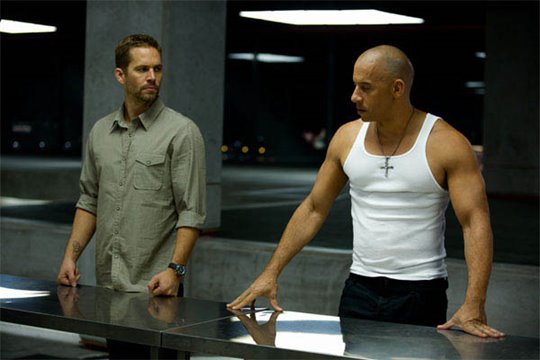 It's all about the fast cars and the thrill of the chase (and the abs) in the Fast and the Furious series, which is all going to be available on Netflix. Get ready for an emotional ride as Vin Diesel and Dwayne Johnson hit the accelerator in The Fast and the Furious, 2 Fast 2 Furious, The Fast and the Furious: Tokyo Drift, Fast & Furious and Fast Five starting March 1. Of course, Paul Walker will leave everyone teary eyed.

Underworld Action
For some more action, take a bite of the Vampire and Lycan action as Kate Beckinsale becomes Serena in Underworld, Underworld: Awakening, Underworld: Evolution and Underworld: Rise of the Lycans streaming March 31.

Until next time, happy streaming! Click here to check out our March 2018 Netflix photo gallery for more detail on all of this month's Netflix originals! ~Marriska Fernandes
Last Call:
March 1
12 Years a Slave
Heartland​ - Seasons 1 - 8
March 4
Prison Break​ - Seasons 1-4
Angel​ - Season 1-5
Roswell​ - Season 1-3
March 6
The Finest Hours
March 9
Daddy's Home
March 16
The Godfather ​- Part I - III
March 20
Zootopia
March 31
Zoolander 2
Here's a list of the films and series streaming this month:
March 1
2 Fast 2 Furious​
Adel Karam: Live from Beirut​ - N​etflix Original
Casino​
Fast & Furious​
Fast Five​
Love Beats Rhymes​
RuPaul's Drag Race​ - Season 9​
Sisters​
Sleeping With Other People​
Steve Jobs​
Stomp the Yard​
The Fast and the Furious​
The Fast and the Furious: Tokyo Drift​
The Forest​
The Rundown​
The Tale of Despereaux​
True to the Game
March 2
Girls Incarcerated​ - Season 1 -​ Netflix Original
Voltron: Legendary Defender​ - Season 5​ -​ Netflix Original
March 3
The Stanford Prison Experiment​
March 4
Expedition China
The Joel McHale Show with Joel McHale ​- Season 1​ - Weekly Episodes every Sunday​ - ​Netflix Original
March 5
Broadchurch​ - Season 3​
The Brothers Grimm​
March 6
Borderliner: Season 1​ - ​Netflix Original
The Brothers Grimsby​
Benji​ (1974)
Benji: Off the Leash​
Black Lighting​ - Season 1, Weekly Episodes from March 6 ​- ​Netflix Original
For the Love of Benji​
Gad Elmaleh: American Dream - ​Netflix Original
March 8
Marvel's Jessica Jones​ - Season 2​ - ​Netflix Original
Ladies First​ ​- ​Netflix Original
Riverdale​ - Season 2 - Weekly Episodes as of March 8​ - ​Netflix Original
March 9
Collateral: Limited Series​ - ​Netflix Original
Nailed It: Season 1 ​- ​Netflix Original
Love: Season 3​ - ​Netflix Original
My Next Guest Needs No Introduction With David Letterman: Malala Yousafzai​ - ​Netflix Original
The Outsiders ​- ​Netflix Film
Transformers: The Last Knight​
Trolls: The Beat Goes On!​ - Season 2​ - N​etflix Original
Wind River
March 12
Kygo: Live at the Hollywood Bowl​
Troy: The Odyssey​
What to Expect When You're Expecting​
March 13
Stretch Armstrong: The Breakout - ​Netflix Original
St. Vincent​
Ricky Gervais: Humanity​ - ​Netflix Original​
Terrace House: Opening New Doors: Part 1​ - ​Netflix Original​
March 15
Before the Flood​
Tabula Rasa: Season 1 ​- ​Netflix Original
The Hollywood Masters​ - Season 2​
March 16
Benji​ - ​​Netflix Film
Edha: Season 1​ - ​Netflix Original
Hitman's Bodyguard
On My Block​- Season 1 - ​Netflix Original
Spirit Riding Free​ - Season 4 - ​Netflix Original
Take Your Pills​ - ​Netflix Original
The Legacy of a Whitetail Deer Hunter ​- ​Netflix Film
Wild Wild Country​ - Season 1 - ​Netflix Original
March 20
The Standups​ - Season 2 - ​Netflix Original
March 21
Bob the Builder: Mega Machines​
Shadowhunters: The Mortal Instruments​ - Season 3 - ​Netflix Original
March 23
Alexa & Katie: Season 1 ​- ​Netflix Original
Race​
Dinotrux Supercharged​ - Season 2​ - ​Netflix Original
Game Over, Man!​ - ​Netflix Film
Layla M.​ - ​Netflix Original Film
Roxanne Roxanne - ​Netflix Film
Requiem: Season 1​ - ​Netflix Original
Santa Clarita Diet​ - Season 2​ - ​Netflix Original
The Mechanism​ - Season 1 - ​Netflix Original
SWORDGAI The Animation: Part 1​ - Netflix Original
March 29
Alias Grace: Limited Series​
March 30
A Series of Unfortunate Events​ - Season 2 - ​Netflix Original
Eye in the Sky
First Match​ ​- ​Netflix Film
Happy Anniversary - ​Netflix Film
Trailer Park Boys -​ Season 12​ - ​Netflix Original
The Titan - ​Netflix Film
Trump: An American Dream - Season 1 - ​Netflix Original
Rapture​ - Season 1 - ​Netflix Original
March 31
A Walk Among the Tombstones​
Bewitched​
Catfish​
Clerks 2​
Eternal Sunshine of the Spotless Mind​
Hairspray​
RV​
Talladega Nights: The Ballad of Ricky Bobby​
The Fifth Element​
Underworld​.
Underworld: Awakening​
Underworld: Evolution​
Underworld: Rise of the Lycans​
Hanna​
Let Me In​
Lucky Number Slevin​
Pandorum​
Spy Kids​
Spy Kids 2: The Island of Lost Dreams​
Spy Kids: All the Time in the World​
Texas Chainsaw Massacre​
The Back-Up Plan​
The Crazies​
The Man​
Winter's Bone​