Spider-Man: Into the Spider-Verse
Thank you for rating this movie!
Read your review below. Ratings will be added after 24 hours.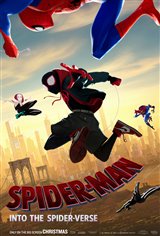 4.27 / 5
Based on 318 votes and 48 reviews
Please rate between 1 to 5 stars
Showing 41 to 48 of 48
December 19, 2018
Fantastic entry into the myths of the character. I must admit, when Miles Morales and the Ultimate Marvel Universe started in print way back when, I did the requisite eye roll—thought Marvel was doing another Clone saga, or Maximum Carnage dreck. However, this movie did the impossible...I could actually connect with a character other than Peter Parker. Pacing was tight, laughs aplenty, Requisite Miller and Lord "meta" humour. Whomever said in the reviews below that they fell asleep 3 times should probably see their doctor...sounds like a thyroid issue.
December 18, 2018
A must see..really enjoyed this!
December 18, 2018
Stop making those spider-mans, each time only worse. The first was the best and that is enough
December 18, 2018
Excellent
December 18, 2018
Love it
December 17, 2018
Very visually appealing. Loved it, and while the story line was "here and there" at times, it maintained my interest throughout it. Lots to look at and it was funny, too!
December 16, 2018
I found it boring, and a little disappointing. I almost fell asleep 3 times.
December 14, 2018
Just saw it and it was Wonderful! One of the best Spiderman films I have Ever seen! Ill definetly own this and will see it again in theatre! Go see this and wait until after the end credits you will laugh.