The Meg
Thank you for rating this movie!
Read your review below. Ratings will be added after 24 hours.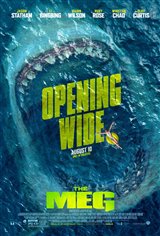 3.94 / 5
Based on 214 votes and 49 reviews
Please rate between 1 to 5 stars
Showing 41 to 49 of 49
August 14, 2018
Good summertime flick. Lots of cliche's and predictable plot points, and in some parts some pretty cheesy dialogue, but for pure entertainment value it is never boring and has some pretty decent action sequences. One of those "leave your brain at the door and just enjoy with a big bucket of popcorn" movies. If you're looking for an artsy/indie movie with intellectual overtones and character-study feel, this is not the movie for you. Also, this movie is surprisingly not that bloody. Whether that's a good thing or a bad thing is for you to decide.
August 12, 2018
I enjoyed the movie.. brother not as much as me.. only reason it is not a 5 is there should of been more Carnage and Mayhem.. but overall a great movie
August 12, 2018
Good action although highly predictable. You will like if enjoy shark movies.
August 12, 2018
Will definitely worth watching and wil be going again, Jason... you rock
August 12, 2018
pretty good acting but, the movie didn't show enough of the star in my opinion ..... by star I mean the shark . Some funny bits ,some scare you bits , but mostly the shark scenes are a fin gliding through the water . That earns 3 stars in my book .
August 11, 2018
Good movie great actors. Very suspenseful
August 11, 2018
It was very well done. It will keep you engaged and on the edge of your seat the whole movie. You will definitely love this movie!!
August 11, 2018
Wow! Definitely one of the best movies I have seen in a while. It had me on the edge of my seat and screaming with the best.