The Sisters Brothers
Thank you for rating this movie!
Read your review below. Ratings will be added after 24 hours.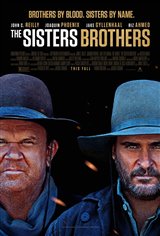 2.67 / 5
Based on 14 votes and 7 reviews
Please rate between 1 to 5 stars
Showing 1 to 7 of 7
October 14, 2018
This was a totally awesome movie/comedy/western!!! Don't believe the dummies who commented below...'violence toward horses...' I mean, REALLY?! it was a western period piece from the 1800's for God sakes! Get real people...and the comedy was funny, the acting and story great. Me thinks some political views involved in those reviews below like for instance 'we must have clean and happy white bright westerns of the 'good old days' when 'Merica' was righteous and great taking over the land from all those unsophisticated 'natives.' Geeeshh.
October 13, 2018
Everybody should watch this
October 13, 2018
Superb funny western
October 12, 2018
I read the book after watching the movie and liked it even less. Neither is funny and the book has a murderous little girl in it, although maybe it was a dream sequence, it was hard to tell.
October 11, 2018
Sorry, didn't get it. A comedy? I laughed once. A friend said the book was amazing. If you read the book, stop there.
October 10, 2018
Totally stupid. Has no ability to be believable. I am a pacifist and I wanted to shoot them at the end.
September 10, 2018
Joaquin and John were good, but overall the movie was too violent and the brutality towards horses turned me off. Would not recommend.